Peanut Oil Market Size (2023 – 2030)
The Global Peanut Oil Market was estimated to be worth USD 2.5 billion in 2022 and is projected to reach a value of USD 3.47 billion by 2030, growing at a CAGR of 4.2% during the forecast period 2023-2030.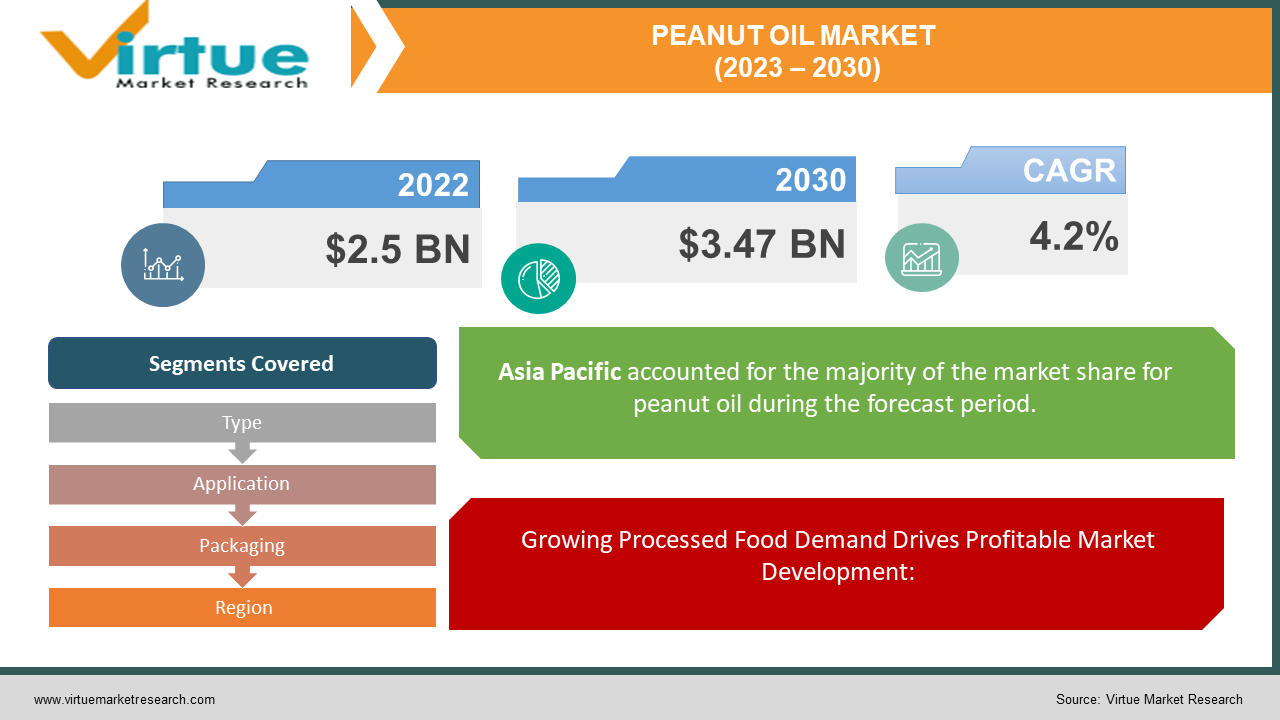 Peanuts are the source of peanut oil, a kind of edible vegetable oil. Originally from Latin America and other tropical locations, peanuts are legumes. Either as a basis for cooking or to enhance the flavor of the dish underneath, peanut oil is used. It is used for frying meals since it has a high smoke point in comparison to other cooking oils. Oleic, linoleic, and palmitic acids make up the majority of its constituent fatty acids. It also includes additional fatty acids including behenic acid, lignoceric acid, stearic acid, and arachidic acid.
Key Market Insights:
The Food and Drug Administration finally approved Aimmune Therapeutics Inc.'s peanut allergy medication, the first of its kind to shield individuals from unintentional and possibly deadly exposures.
To diversify its operations, Shree Ram Proteins Ltd. recently announced intentions to build a new oil refinery in 2022. The business has placed an order for a state-of-the-art refining facility for the new business division. By the end of January 2023, the business plans to introduce Rape Seed Oil, Groundnut Oil, and Cottonseed Oil. It is categorized as edible oil and will be utilized by the corporation in its home market. The company's operations and product offerings to clients are growing as a consequence of diversification.
To enhance its current supply chain in India and increase its presence there, Cargill bought an edible oil refinery in Nellore, Andhra Pradesh.
Global Peanut Oil Market Drivers:
Growing Processed Food Demand Drives Profitable Market Development:
The food business, which is expanding in emerging economies and solidifying its position in developed markets, is the sector with the fastest global growth rate. Manufacturers are adopting and developing innovative processing methods in response to the rising demand for nutritious food and food with functional properties. Convenience and processed food sales have grown as a result of rising disposable income brought on by economic expansion, particularly in emerging nations. The market for processed foods is predicted to expand owing to an increase in the working population and customers' busy lifestyles. This will immediately increase demand for edible oils, which is good news for this industry given the many advantages of peanut oil.
Increased Quick Service Restaurants will Help Peanut Oil Sales:
Cafes and quick service restaurants that are part of chain restaurants are expanding more quickly. Since the majority of peanut oil's final applications are in the food service business, its sales will increase as that sector expands. The main cause of the increased demand for peanut oil from the food service sector is the robust development in the number of QSRs and hotels across all areas. The reason that peanut oil is the most often used oil for deep frying, sauntering, and grilling is because of its high smoke point. The food service industry is gaining from rising tourism, which is likely to drive the need for peanut oil.
Global Peanut Oil Market Challenges:
Environmental issues are predicted to impede market expansion:
The market's expansion is anticipated to be hampered by the strong alternatives to peanut oil that are starting to appear, including almond oil, soyabean oil, sunflower oil, and others. On the other hand, the entire production of the peanut crop is under threat from the emergence of environmental disasters including floods, droughts, insect assaults, and others. Additionally, the weak demand and supply chain brought on by widespread lockdowns is providing several difficulties for businesses worldwide.
Global Peanut Oil Market Opportunities:
Growing Use of Peanut Oil in the Pharmaceutical and Cosmetic Industries:
The use of peanut oil as a primary component in medicinal and cosmetic goods is growing in popularity. Due to its high vitamin D and E content and antioxidant characteristics, crude peanut oil makes an ideal addition to soap and other skincare products. The high-fat content of peanut oil makes it a fantastic base for massage oils. Fortified peanut oil is used by several cosmetic producers as an emollient in skincare and hair care products. Cosmetic producers are employing flavor-infused plant-based oils that have kept their nutrients to create attractive soaps, serums, and other products. High-oleic oils' moisturizing and anti-aging properties are the main factors driving their rising usage in cosmetics.
PEANUT OIL MARKET REPORT COVERAGE:
| | |
| --- | --- |
| REPORT METRIC | DETAILS |
| Market Size Available | 2022 - 2030 |
| Base Year | 2022 |
| Forecast Period | 2023 - 2030 |
| CAGR | 4.2% |
| Segments Covered | By Type, Application, Packaging, and Region |
| Various Analyses Covered | Global, Regional & Country Level Analysis, Segment-Level Analysis, DROC, PESTLE Analysis, Porter's Five Forces Analysis, Competitive Landscape, Analyst Overview on Investment Opportunities |
| Regional Scope | North America, Europe, APAC, Latin America, Middle East & Africa |
| Key Companies Profiled | Adani Enterprises Ltd, Archer Daniels Midland Co, Cargill Inc, COFCO Corp, Lorenzati Ruetsch y Cia SA, Louis Dreyfus Co. BV, Olam International Ltd, The Hain Celestial Group Inc, The J.M. Smucker Co, Wilmar International Ltd |
Global Peanut Oil Market Segmentation:

By Type
The market is divided into refined and unrefined peanut oil categories based on kind. Bleaching and deodorization are two steps in the refinement process for oil. Refined peanut oil becomes non-allergic as a result of this process by 47%, which effectively eliminates the components that might result in allergies to peanut products. Refined peanut oil has a high smoke point, which makes it a desirable frying oil for hotels and restaurants. For salad dressings, unrefined peanut oil is the best option since it has the nutty flavor of peanuts.
Global Peanut Oil Market Segmentation: By

Application
Personal Care Products

Food

Pharmaceutical

Others
The market is divided into food, personal care items, pharmaceuticals, and other products based on application. Due to the nature of the business, food is now the leading category and is predicted to remain so by 38%. A significant driving force behind the growth of the personal care products market is consumers' growing desire for everyday goods that use natural or plant-based ingredients. Peanut oil is used in numerous categories, including skincare and infant care products, in the personal care goods market by 22%. Additionally, a variety of medicinal medications, including those for constipation, cholesterol reduction, and weight loss, employ peanut oil.
Global Peanut Oil Market Segmentation: By

Packaging
Glass Containers

Plastic Containers

Cartons

Plastic Pouches

Others
The market is divided into glass jars, plastic pouches, cartons, and plastic bottles and containers based on packaging. Shelf life, affordability, and convenience are crucial factors in determining how well any packing system performs. Due to their unique suitability in the preparation of food items, plastic bottles, containers, and pouches are significant and leading market sectors.
Global Peanut Oil Market Segmentation: By Region
North America

Europe

Asia-Pacific

South America

Middle East and Africa
The biggest market for peanut oil is in Asia-Pacific by 45%. China and India, for example, account for a sizable portion of the world's use of peanut oil. The Department of Agriculture of the United States estimates that 1,170,000 metric tonnes of peanut oil were consumed in India during the fiscal year 2021, compared to 3.28 million metric tonnes in China during the same period. Additionally, peanut oil is mostly utilized for cooking in Asian nations since it gives foods a distinct color, a neutral flavor, and a pleasing perfume. It enhances the flavor of the dish that is presented.
Due to the rising consumption of peanut oil in the region's nations, the North American market is anticipated to account for a sizeable portion of the global market in terms of revenue by 27%. This can be linked to the region's countries' rising demand for peanut oils from the food and medicinal industries.
COVID-19 Impact on the Global Peanut Oil Market:
The world market for peanut oil has been severely disrupted by the COVID-19 outbreak. Numerous peanut oil production facilities were shut down as a result of rules and restrictions implemented by various governments of different nations, which had a detrimental effect on the amount of the product that was produced. The trade markets for peanut oil all over the world have suffered as a result of this. In the early phases of the pandemic, demand for frying peanut oil significantly decreased because the majority of nations were under partial or total lockdown.
Global Peanut Oil Market Recent developments:
The market is growing as a result of rising public health and fitness efforts as well as rising medicinal usage of peanut oil. The demand for market participants to innovate to remain competitive is rising as a result of consumer knowledge of the health advantages of peanut oil. The demand for peanut oil in the cosmetics and personal care industries is rising as consumers become more aware of its many advantages. Information about homemade treatments for skin diseases and other personal care issues is now simpler to access. As a result, users are using oils with medical uses, such as peanut oil, to make their 4personal care products.
Key Players:
Adani Enterprises Ltd

Archer Daniels Midland Co

Cargill Inc

COFCO Corp

Lorenzati Ruetsch y Cia SA

Louis Dreyfus Co. BV

Olam International Ltd

The Hain Celestial Group Inc

The J.M. Smucker Co

Wilmar International Ltd
In November 2022: The 200 TPD edible oil refinery was built by Chemsta for the Luhua Group (Xiangyang Branch). It was put into use and quickly started generating high-quality oils from rapeseed and peanuts. The group claims that Chemsta has built more than 10 plants (including pressing, solvent extraction, refining, dewaxing, etc.) for rapeseed and peanut oil.

In May 2021: The successful acquisition of the California-based firm "Olde Thompson" by Singapore-based "Olam International," a prominent food and beverage division, was announced. Olam Food made a $950 million payment to complete the purchase process and better consolidate its private-label product offering range.
Chapter 1. Peanut Oil Market – Scope & Methodology
1.1 Market Segmentation
1.2 Scope, Assumptions & Limitations
1.3 Research Methodology
1.4 Primary Sources
1.5 Secondary Sources
Chapter 2. Peanut Oil Market – Executive Summary
2.1 Market Size & Forecast – (2022 – 2030) ($M/$Bn)
2.2 Key Trends & Insights
2.2.1 Demand Side
2.2.2 Supply Side
2.3 Attractive Investment Propositions
2.4 COVID-19 Impact Analysis
Chapter 3. Peanut Oil Market – Competition Scenario
3.1 Market Share Analysis & Company Benchmarking
3.2 Competitive Strategy & Development Scenario
3.3 Competitive Pricing Analysis
3.4 Supplier-Distributor Analysis
Chapter 4. Peanut Oil Market Entry Scenario
4.1 Regulatory Scenario
4.2 Case Studies – Key Start-ups
4.3 Customer Analysis
4.4 PESTLE Analysis
4.5 Porters Five Force Model
4.5.1 Bargaining Power of Suppliers
4.5.2 Bargaining Powers of Customers
4.5.3 Threat of New Entrants
4.5.4 Rivalry among Existing Players
4.5.5 Threat of Substitutes
Chapter 5. Peanut Oil Market – Landscape
5.1 Value Chain Analysis – Key Stakeholders Impact Analysis
5.2 Market Drivers
5.3 Market Restraints/Challenges
5.4 Market Opportunities
Chapter 6. Peanut Oil Market – By Type
6.1 Introduction/Key Findings
6.2 Refined
6.3 Unrefined
6.4 Y-O-Y Growth trend Analysis By Type
6.5 Absolute $ Opportunity Analysis By Type , 2023-2030
Chapter 7. Peanut Oil Market – By Application
7.1 Introduction/Key Findings
7.2 Personal Care Products
7.3 Food
7.4 Pharmaceutical
7.5 Others
7.6 Y-O-Y Growth trend Analysis By Application
7.7 Absolute $ Opportunity Analysis By Application , 2023-2030
Chapter 8. Peanut Oil Market – By Packaging
8.1 Introduction/Key Findings
8.2 Glass Containers
8.3 Plastic Containers
8.4 Cartons
8.5 Plastic Pouches
8.6 Others
8.7 Y-O-Y Growth trend Analysis By Packaging
8.8 Absolute $ Opportunity Analysis By Packaging , 2023-2030
Chapter 9. Peanut Oil Market , By Geography – Market Size, Forecast, Trends & Insights
9.1 North America
9.1.1 By Country
9.1.1.1 U.S.A.
9.1.1.2 Canada
9.1.1.3 Mexico
9.1.2 By Type
9.1.3 By Packaging
9.1.4 By Application
9.1.5 Countries & Segments - Market Attractiveness Analysis
9.2 Europe
9.2.1 By Country
9.2.1.1 U.K
9.2.1.2 Germany
9.2.1.3 France
9.2.1.4 Italy
9.2.1.5 Spain
9.2.1.6 Rest of Europe
9.2.2 By Type
9.2.3 By Packaging
9.2.4 By Application
9.2.5 Countries & Segments - Market Attractiveness Analysis
9.3 Asia Pacific
9.3.1 By Country
9.3.1.1 China
9.3.1.2 Japan
9.3.1.3 South Korea
9.3.1.4 India
9.3.1.5 Australia & New Zealand
9.3.1.6 Rest of Asia-Pacific
9.3.2 By Type
9.3.3 By Packaging
9.3.4 By Application
9.3.5 Countries & Segments - Market Attractiveness Analysis
9.4 South America
9.4.1 By Country
9.4.1.1 Brazil
9.4.1.2 Argentina
9.4.1.3 Colombia
9.4.1.4 Chile
9.4.1.5 Rest of South America
9.4.2 By Type
9.4.3 By Packaging
9.4.4 By Application
9.4.5 Countries & Segments - Market Attractiveness Analysis
9.5 Middle East & Africa
9.5.1 By Country
9.5.1.1 United Arab Emirates (UAE)
9.5.1.2 Saudi Arabia
9.5.1.3 Qatar
9.5.1.4 Israel
9.5.1.5 South Africa
9.5.1.6 Nigeria
9.5.1.7 Kenya
9.5.1.8 Egypt
9.5.1.9 Rest of MEA
9.5.2 By Type
9.5.3 By Packaging
9.5.4 By Application
9.5.5 Countries & Segments - Market Attractiveness Analysis
Chapter 10. Peanut Oil Market – Company Profiles – (Overview, Product Portfolio, Financials, Strategies & Developments)
10.1 Adani Enterprises Ltd
10.2 Archer Daniels Midland Co
10.3 Cargill Inc
10.4 COFCO Corp
10.5 Lorenzati Ruetsch y Cia SA
10.6 Louis Dreyfus Co. BV
10.7 Olam International Ltd
10.8 The Hain Celestial Group Inc
10.9 The J.M. Smucker Co
10.10 Wilmar International Ltd