Solenoid Valve Market Size (2023 – 2030)
The Global Solenoid Valve Market was estimated to be worth USD 5.3 billion in 2022 and is projected to reach a value of USD 7.71 billion by 2030, growing at a CAGR of 4.8% during the forecast period 2023-2030.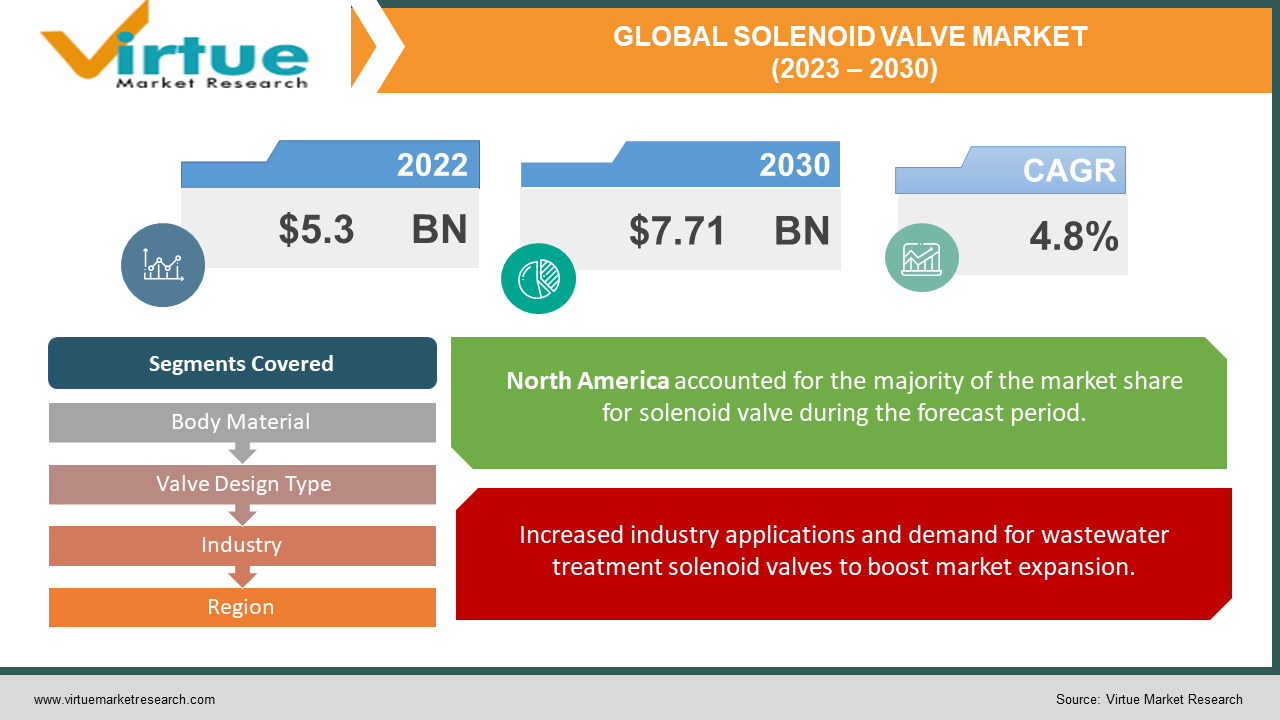 A solenoid valve is a device for controlling liquid or gaseous material flow. The operation of a solenoid valve's numerous functions is based on the electromagnetic force concept. An electric current is used by a solenoid valve to control the components' flow. Solenoid valves are commonly used as control elements in fluidics. These valves carry out a variety of functions, including releasing, turning on or off, mixing, and transferring gases and liquids. Numerous characteristics of solenoid valves include dependability, a quick and dependable switching mechanism, a long lifespan, a small design, and minimal control power. Due to their adaptable characteristics, solenoids are used in a variety of systems, from automated manufacturing machinery to paintball weapons and doorbells. The magnetic field of a solenoid, which gets electricity when the doorbell is pressed, drives the piston's movements.
Global Solenoid Valve Market Drivers:
Increased industry applications and demand for wastewater treatment solenoid valves to boost market expansion:
The increase in demand for wastewater treatment facilities will be a major factor in the market's development. Additionally, the market for solenoid valves is being driven by industrialization and rising urbanization. The market for solenoid valves will also grow as they become more widely used in a variety of industrial sectors. Additionally, rising consumer demand from the food and beverage industry and rising usage of valve diagnostic systems will have a significant impact on the market for solenoid valves. A crucial factor that will moderate the solenoid valves market's growth pace is the growing switch to renewable energy sources. During the projected period of 2023–2030, the growing use of micro solenoid valves will also further accelerate the market's development pace.
Diverse applications and economical design the benefits of direct-acting solenoid valves and their market expansion:
Direct-acting solenoid valves, which lack a diaphragm, are widely used in the market. As a result, the valves are guaranteed to remain closed even in the absence of pressure. Valves are employed in a variety of sectors because of their fundamental principles. These solenoid valves may be utilized for a variety of operations, such as filling, dosing, venting, and shutting off. The commercial penetration of these valves has been facilitated by their lightweight, cost-efficient, and compact design. Direct-acting solenoid valves are becoming more common since there is no diaphragm to ensure that the valves stay closed even when no pressure is applied. Because they operate on fundamental principles, valves are employed in a wide range of industrial sectors. Furthermore, direct-acting or direct-operated valves are a sensible substitute in demanding applications involving neutral and pure liquids, gases, and vapors. The shut-off, filling, dosing, and venting functions of these solenoid valves are all possible. Their cost-effectiveness and lightweight, compact form have contributed to the growth of the solenoid valve market.
Global Solenoid Valve Market Challenges:
Applications of solenoid valves in the oil and gas sector challenges and slowdown in the face of changing energy trends:
In the upstream, middle, and downstream processes of the oil and gas industries, solenoid valves are used. Upstream operations include things like the discovery and extraction of crude oil, whereas downstream operations include things like the filtering and purification of oil and gas. Solenoid valves are a vital component of the oil and gas industry. They are used in heating systems, control systems, safety systems, fractional distillation, and catalytic cracking, among other things, from drilling an oil well to extracting and transporting crude oil. They have gained great acceptability as a consequence. However, the sector has slowed down and several oil rigs have been shut down as a result of the likely decline in demand for fossil fuels and oil. Even though this slowdown has subsided, demand will still decline throughout the projected period, hindering the growth of the Solenoid Valve market.
COVID-19 Impact on Global Solenoid Valve Market:
Due to lower end-user demand in the early months of COVID-19, the solenoid valve market experienced losses. The automobile and food processing industries make extensive use of the valves. All companies, except those providing essential services, have been ordered closed down or have had their operating hours cut as a result of the epidemic. 2020 has seen a decline in several industries, including the manufacture and sale of automobiles. Furthermore, the oil and gas sector makes extensive use of solenoid valves. The COVID-19 epidemic has hurt the market by lowering crude oil prices and demand. The International Energy Agency calculated that COVID-19-related shutdowns reduced world oil demand by 30 million barrels per day. Such a sharp decline in the price of crude oil was brought on by increasing production, dropping demand, and shrinking storage capacity.
Global Solenoid Valve Market Recent developments:
In April 2022: Emerson expanded their selection of small solenoid valves from the ASCO Series 090 series. The product line includes a brand-new three-way Series 090 valve design. The three-way configuration enables lighter and more space-efficient gas management in oxygen treatment, compression therapy, and gas analyzer equipment. In October 2022: At COMPAMED 2022, Kendrion unveiled their newest bistable solenoid valve, model number 63.0. Fast and precise flow rate control is provided by the valve. It doesn't permanently energize the coil when it is in the open or closed position thanks to an incorporated permanent magnet. The valve may be customized to fit specific needs and is available in 2/2- or 3/2-way versions.
SOLENOID VALVE MARKET REPORT COVERAGE:
| | |
| --- | --- |
| REPORT METRIC | DETAILS |
| Market Size Available | 2022 - 2030 |
| Base Year | 2022 |
| Forecast Period | 2023 - 2030 |
| CAGR | 4.8% |
| Segments Covered | By Body Material, Valve Design Type, Industry, and Region |
| Various Analyses Covered | Global, Regional & Country Level Analysis, Segment-Level Analysis, DROC, PESTLE Analysis, Porter's Five Forces Analysis, Competitive Landscape, Analyst Overview on Investment Opportunities |
| Regional Scope | North America, Europe, APAC, Latin America, Middle East & Africa |
| Key Companies Profiled | Aira Euro Automation Pvt Ltd., AirTAC International Group, Anshan Solenoid Valve Co. Ltd., CEME SpA, Christian Bürkert GmbH & Co. KG, Cla-Val, Cole-Parmer Instrument Company, LLC., Danfoss A/S, Emerson Electric Co., GF Piping Systems |
Global Solenoid Valve Market Segmentation: By Body Material
Stainless Steel

Brass

Aluminium

Plastic
The stainless steel, aluminum, brass, and plastic segments of the global solenoid valve market have been created based on material perspective. Over the course of the projection period, the stainless steel segment is anticipated to post a fairly rapid rate of revenue growth. This segment's revenue growth is primarily driven by elements like corrosion resistance, simplicity of production, and high compatibility with outdoor conditions. For use in particular corrosive media and chemical applications, stainless steel solenoid valves are the best option. Wherever water, chemical mixtures, oil, and gases are transported through pipelines, solenoid valves are crucial for remotely or automatically controlling the flow and transfer of fluids. To regulate and control the flow of corrosive fluids, they are also used in a variety of other applications, such as commercial solenoid pumps, armatures, relays, and cores, among others. The demand for items made of stainless steel is anticipated to increase as regulations change to mandate the use of safer and higher-quality materials. Stainless steel is the most affordable material that delivers durability and corrosion resistance. Brass material solenoid valves are the most popular among them since they are acceptable for the majority of chemicals and have the fastest increasing market. For many uses, solenoid valves made of brass work well.
Global Solenoid Valve Market Segmentation: By Valve Design Type
The 2-way solenoid valve is quickly becoming a market leader, accounting for a sizable portion of the market share in 2023. In contrast to the CAGR shown during the historical period, the category is predicted to be the most dominating and to expand the quickest over the projection period. Common applications for the device include log misting systems, process heating, hydraulic lifts, and sawdust management. The widespread use of solenoid valves across several sectors has also been pushed by significant investment in process industries. Due to solenoid valves' leak-blocking properties, size, reduced price, automated flow control, etc., their application in conjunction with improved magnetic fields and electric current is quickly expanding.
Global Solenoid Valve Market Segmentation: By Industry
Oil & Gas

Chemical & Petrochemical

Water & Wastewater

Food & Beverages

Power Generation

Pharmaceuticals

Automotive

Medical

Others
The food and beverage (F&B), aerospace and defense, water and wastewater, chemical and petrochemical, oil and gas, automotive, healthcare and pharmaceutical, power generation, and other segments of the global solenoid valve market have been created based on the end-user perspective. Over the projected period, the food and beverage category is anticipated to contribute the most to revenue. Major reasons supporting this segment's revenue growth include characteristics like resilience to a range of temperatures, low power consumption, ease of installation, and adaptability in remote operations. Due to the material's resistance to impurities, stainless steel is typically used in the construction of solenoid valves. Due to these reasons, solenoid valves are a great choice for food processing. In the production of ready meals, fish canneries, salting systems, fruit and vegetable canneries, beer bottling facilities, wine distribution devices, and other industries, solenoid valves are often utilized.
It is projected that the market for the automobile sector would expand more quickly. Air intake, exhaust, locking, and safety systems, engine control, lubrication, steering, suspension, and gearbox systems all employ solenoid valves in the automobile sector. Just a few of the applications include air conditioning controllers, security systems, and automated gearbox drive choices. The automotive industry is growing steadily on a global scale, with the majority of demand coming from emerging regions and manufacturing moving there. With annual sales in certain markets surpassing pre-recession levels, the global automotive industry has been seeing a fair amount of growth and profitability.
Global Solenoid Valve Market Segmentation: By Region
North America

Europe

Asia-Pacific

South America

Middle East & Africa
In 2022, North America commanded a commanding share of the worldwide solenoid valves market, thanks in large part to the region's strong infrastructure and thriving end-user industries. The expansion of modern fluid automation technologies and their expanding application areas in sectors like oil and gas, chemical, food and beverage, and water treatment, among others, may be credited for the region's success. Additionally, the increasing automation of many production processes in end-user industries' manufacturing facilities has fueled the market's expansion in North America. The need for solenoid valves is raised by these improvements' goals of higher performance, less manpower, and increased efficiency. However, due to the area's expanding end-use industries, the Asia Pacific region is anticipated to see the greatest compound annual growth rate (CAGR) throughout the projected period. The rise in demand for solenoid valves in nations like China, India, and Japan, among others, which is being fueled by the flourishing industrial sector and rising investment in automation technology, may be credited with the expansion. Additionally, it is anticipated that the expansion of the solenoid valves market in the Asia Pacific region would be further fueled by rising disposable income and rising consumer awareness of the advantages of automation technology. Additionally, the market is anticipated to see new development prospects due to the expansion of the food and beverage, water treatment, and chemical sectors in the area.
Key Players:
Aira Euro Automation Pvt Ltd.

AirTAC International Group

Anshan Solenoid Valve Co. Ltd.

CEME SpA

Christian Bürkert GmbH & Co. KG

Cla-Val

Cole-Parmer Instrument Company, LLC.

Danfoss A/S

Emerson Electric Co.

GF Piping Systems