Global Rum Market Size (2023 - 2030)
According to the estimates, the global rum market size was valued at USD 11.26 Billion in 2022, and is estimated to grow at a compound annual growth rate (CAGR) of 5.2% from 2023 - 2030, to reach a valuation of USD 16.89 Billion in the outlook period. With the increasing number of product launches and ever-growing number of consumers in the industry, it is sure to boost the product demand even more. Also, product promotions through social media, print media, and magazines have also shown a positive impact on the market growth of the rum industry globally.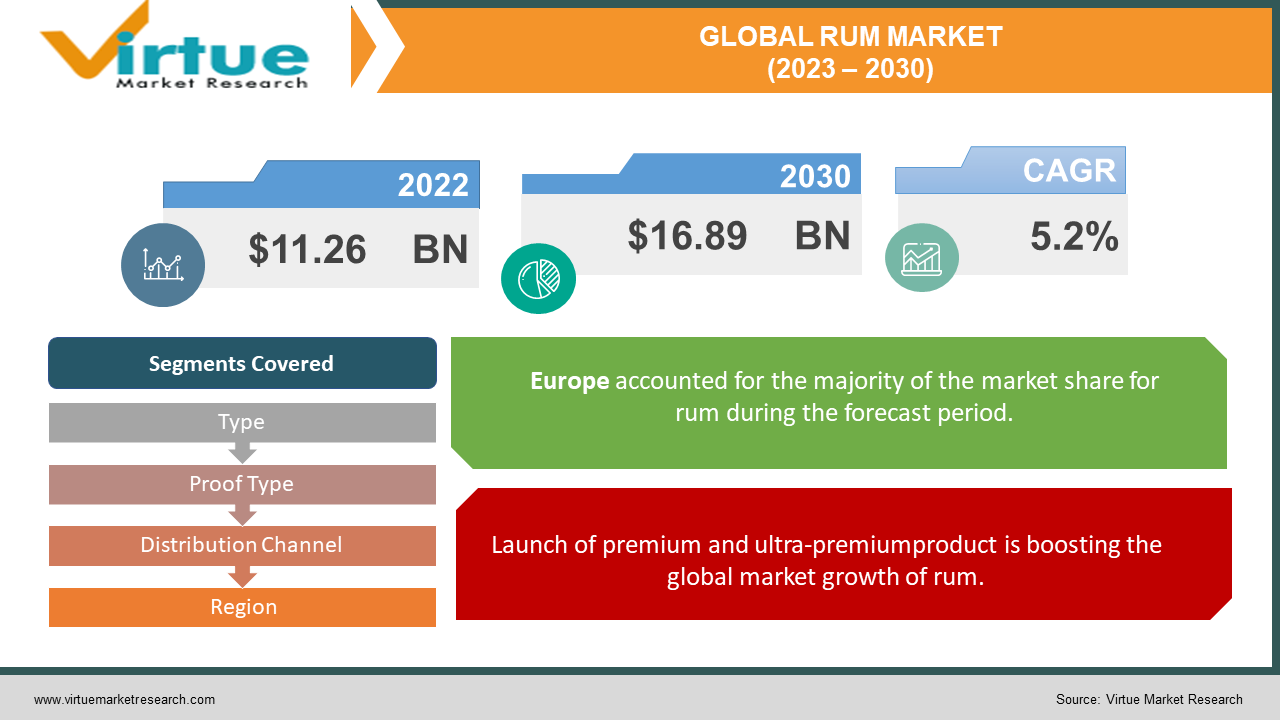 Market Overview:
Rum is a hard alcohol which is made from fermented sugar, molasses and its derivatives. The fermented sugar juice or molasses and water are then distilled to make liquor and is heated to evaporate alcohols and re-condensed to get the end product – rum. It is one of the oldest alcoholic beverages to exist. It comes in different varieties such as light rum, dark rum, gold rum, spiced rum, flavored rum and over-proof rum. This diverse nature of rum makes it the most popular liquor used in the preparation of different cocktails. The especially sweet flavor of rum makes it a versatile blender and one of the most important alcoholics for a well-stocked bar.Millennials are the key consumer of rum across the globe, as it is economical compared to other spirits. This makes it suitable for the people who seek budget drinks in the premium category with the desired alcohol content and make it the second preferred beverage of all spirits.Rum has also been linked with health benefits and help prevent coronary diseases like heart attacks by increasing good cholesterol levels, HDL cholesterol and prevent clogging of arteries. Owing to its growing popularity and increased consumption among the millennials, the rum market has experienced a tremendous growth in its market size.
Covid-19 Impact on the Rum Market:
The COVID-19 outbreak adversely affected the market globally and shook economies worldwide as multiple countries-imposed lockdowns. In this scenario, some industries performed well while others just crushed down. The food market, cleaning and hygiene product market, medical industry, ecommerce industry were such categories which witnessed high growth, whereas due to adoption of healthy lifestyle demand of rum experienced rapid decline. Places like bars, pubs, restaurants and night clubs were closed for long durations, which affected the overall sale of alcoholic beverages industry further disrupting the demand-supply chain due to unavailability of workers and raw materials. Owing to this situation, e-commerce may observe growth in the post COVID-19 scenario. In the post COVID-19 scenario, the sale of rum saw an increased numbers from e-commerce platforms. But for this to happen the companies need to develop and follow some strategic changes to the design of their supply chain and production policies or plans with the changing business environment.
Market Drivers:
Launch of premium and ultra-premiumproduct is boosting the global market growth of rum:
The rum industry has become increasingly competitive. Therefore, to gain lucrative edge manufacturers are offering rum products with different tastes and flavors like sweet, buttery, caramel, tropical fruit and vanilla notes. They are mainly concentrating on manufacturing premium and ultra-premium rum to meet-up to the rise of demand for it. Focus on R&D is given to create various new flavors of rum. Also, brands need to focus on advertisements and tie up with some popular celebrities to advertise their brands and increase sales as well as brand awareness.
Rum sales on e-commerce platforms is pushing the market growth further:
The expansion of distribution channel towards online platform helped them to reach and sell their brand to large number of consumers. According to a report by ISWR, most people prefer consuming alcohol in their homes than going out. Owing to these factors, e-commerce is estimated to create vast opportunities in the global rum market.
Increasingdisposable incomeof the middle-class population is propelling the overallgrowth of the rum market:
With disposable income increasing in emerging economies among the urban population, people have come across new forms of entertainment, like spending time at night clubs, bars, pubs and lounges. This is an important factor to help boost the sales of liquor and alcoholic beverages among young people. According to a report by United Nations, the number of middle-class consumers has increased over the years, due to increase in disposable income for food and beverages. This factor is anticipated to drive growth in the global rum market during the outlook forecast period.
Market Restraints:
Competitive substitutes like whiskey, vodka and other alcoholic beverages are restraining the global rum market growth:
Spirits like scotch, whiskey, vodka and others challenge the rapidly growing rum market. Also, the presence of a variety of substitutes of non-alcoholic beverages has provided for the competition with rum.
RUM MARKET REPORT COVERAGE:
| | |
| --- | --- |
| REPORT METRIC | DETAILS |
| Market Size Available | 2022 - 2030 |
| Base Year | 2022 |
| Forecast Period | 2023 - 2030 |
| CAGR | 5.2% |
| Segments Covered | By Type, Proof Type, Distribution Channel and Region |
| Various Analyses Covered | Global, Regional & Country Level Analysis, Segment-Level Analysis, DROC, PESTLE Analysis, Porter's Five Forces Analysis, Competitive Landscape, Analyst Overview on Investment Opportunities |
| Regional Scope | North America, Europe, APAC, Latin America, Middle East & Africa |
| Key Companies Profiled | Bacardi Global Brands Ltd., Demerara Distillers Ltd., Asahi Group Holdings Ltd., Davide Campari-Milano Spa, Suntory Holdings Ltd., LT Group Inc., Pernod Ricard SA, Nova Scotia Spirit Co, William Grants & Sons Ltd., Diageo Plc |
This research report on the Rum Market has been segmented and sub-segmented based on type, proof type, distribution channel type, region and company.
Rum Market – By Type
Light

Golden

Dark

Black

Spiced

Other

s
The grades used to describe rum depend on the location where a rum was produced. The variety of rums are available as white, gold, dark rums that are highly in demand throughout the market.
White rum has milder flavor, and in the U.S., they are sold at 80 proof, or 40% alcohol by volume.
Golden rum is more favorable than the white ones and are often aged for several years.
Many aged rums are also referred to as dark rum. The label of dark rum is often assigned to a range of rums that are not clear as well as rums that are well aged. Dark rums are generally aged in oak barrels for an extended period of time.
The darkest, richest and heavy bodied rums are often denoted to as black rums, they offer bold tropical essence to beverages and recipes.
Rum Market – By Proof Type
An over-proof rum is any rum which contains more than 50 % alcohol by volume. Most rums available in the U.S. are 80 - 100 proof(40% - 50% alcohol by volume). These are the rum which contain higher concentrations of alcohol and are often labeled as over-proof.The over-proof rum is becoming increasingly famous, especially in the world of tiki, due to its complexity and the higher alcohol contentit can add to the drinks.
Rum Market – By Distribution Channel
According to the estimates, offline trading segment accounted for the highest revenue share of over 75% in the global market in 2021 and is estimated to grow considerably over the timeline. Easy availability of spirits at supermarkets/hypermarkets and liquor stores and consumer inclination to buy from these channels, are factors that help the segment capture a major market share in the coming years.
The online trading segment is anticipated to be the faster-growing distribution channel over the forecast period. Major focus is given on e-commerce portals by suppliers for selling their products to expand their customer base. The pandemic has further increased this trend in the past two years. All these factors are estimated to propel the segment's growth in the near future.
Rum Market – By Region
North America

Europe

Asia-Pacific

Rest of the World
Europe held the largest share of revenue, more than 35.0% in 2021. Germany, UK and France are the major markets of the region. According to a report by The Wine and Spirit Trade Association, consumers in the U.K. market purchased around 36 million bottles of rum in 2021 and the premium categories have majorly driven the nation's sales growth. Furthermore, the increasing number of micro distillers producing craft spirits in Germany is gaining adhesion over the years.
Asia-Pacific region has shown the highest growth rate in the global rum market during the out-look forecast period. South Asia has been identified as the largest consumers in the world. India and Philippines have been observed as the most dominant countries in the South Asian market. Britain and France have identified the potential of rum market and has identified it as 'the next big thing'. The East Asian rum market, followed by The Middle East and Africa, is also estimated a grow at a tremendous rate as the number of consumers in the region increases.
Rum Market Share – By Company
The market for the rum industry is vastly fragmented. The major key players in the Global Rum Market are:
Bacardi Global Brands Ltd.

Demerara Distillers Ltd.

Asahi Group Holdings Ltd.

Davide Campari-Milano Spa

Suntory Holdings Ltd.

LT Group Inc.

Pernod Ricard SA

Nova Scotia Spirit Co

William Grants & Sons Ltd.

Diageo Plc
Recent Developments in Rum Industry:
In2021, Rum brand Flor de Caña launched a global initiative to create zero‐waste cocktails. The Zero Waste Month campaign invited bars and restaurants worldwide to minimize food waste by providing sustainable cocktails. In July, the rum brand collaborated with leading bartenders in more than 30 countries for the campaign.
In 2020, Bacardi, a leading brand in the rum market, launched anew product, BACARDI Spiced Rum in September with two new campaigns – Captains choose BACARDI and Domino campaign to promote theproduct.
Chapter 1. GLOBAL RUM MARKET– Scope & Methodology
1.1. Market Segmentation
1.2. Assumptions
1.3. Research Methodology
1.4. Primary Sources
1.5. Secondary Sources
Chapter 2. GLOBAL RUM MARKET– Executive Summary
2.1. Market Size & Forecast – (2023 – 2030) ($M/$Bn)
2.2. Key Trends & Insights
2.3. COVID-19 Impact Analysis
2.3.1. Impact during 2023 - 2030
2.3.2. Impact on Supply – Demand
Chapter 3. GLOBAL RUM MARKET– Competition Scenario
3.1. Market Share Analysis
3.2. Product Benchmarking
3.3. Competitive Strategy & Development Scenario
3.4. Competitive Pricing Analysis
3.5. Supplier - Distributor Analysis
Chapter 4. GLOBAL RUM MARKET- Entry Scenario
4.1. Case Studies – Start-up/Thriving Companies
4.2. Regulatory Scenario - By Region
4.3 Customer Analysis
4.4. Porter's Five Force Model
4.4.1. Bargaining Power of Suppliers
4.4.2. Bargaining Powers of Customers
4.4.3. Threat of New Entrants
4.4.4. Rivalry among Existing Players
4.4.5. Threat of Substitutes
Chapter 5. GLOBAL RUM MARKET- Landscape
5.1. Value Chain Analysis – Key Stakeholders Impact Analysis
5.2. Market Drivers
5.3. Market Restraints/Challenges
5.4. Market Opportunities
Chapter 6. GLOBAL RUM MARKET– By Type
6.1. Light
6.2. Golden
6.3. Dark
6.4. Black
6.5. Spiced
6.6. Others
Chapter 7. GLOBAL RUM MARKET– By Proof Type
7.1. Standard
7.2. Over- Proof
Chapter 8. GLOBAL RUM MARKET– By Distribution Channel
8.1. Online
8.2. Offline
Chapter 9. GLOBAL RUM MARKET– By Region
8.1. North America
8.2. Europe
8.3. The Asia Pacific
8.4. Rest of the World
Chapter 9. GLOBAL RUM MARKET– Company Profiles – (Overview, Product Portfolio, Financials, Developments)
9.1. Bacardi Global Brands Ltd.
9.2. Demerara Distillers Ltd.
9.3. Asahi Group Holdings Ltd.
9.4. Davide Campari-Milano Spa
9.5. Suntory Holdings Ltd.
9.6. LT Group Inc.
9.7. Pernod Ricard SA
9.8. Nova Scotia Spirit Co
9.9. William Grants & Sons Ltd.
9.10. Diageo Plc
Download Sample