Smart Contract Security Market Size (2023 - 2030)
As per our research report, the global Smart Contract Security Market size to reach USD 144.95 million in 2022 and is estimated to grow by USD 770.52 million by 2030. This market is witnessing a healthy CAGR of 24.55% from 2023 - 2030. An increase in the usage of various applications industries such as Supply Chain, Banking, insurance, and the government sector are primary factors that are driving the growth of the market.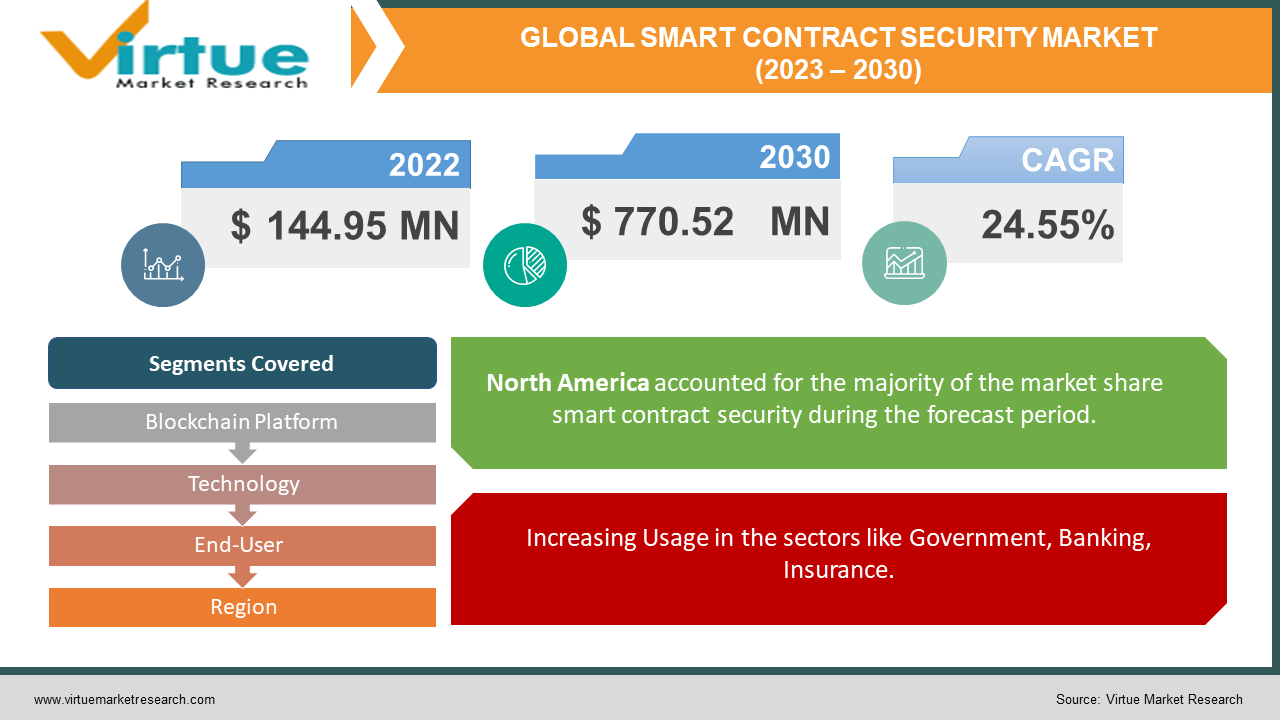 A smart contract is a self-executing contract it is an agreement between buyer and seller being directly written into lines of code. The code and agreement contained therein exist across a distributed and decentralized Blockchain network. The code is written can control the execution and transactions are trackable and irreversible. Transactions that happen in the smart contract are processed by the Blockchain which means they can be sent automatically without the involvement of a third party.
Smart contracts can be used for many purposes, ranging from financial derivatives to insurance premiums, property law, breach contracts, credit enforcement, financial services, crowdfunding agreements, and legal processes. The smart contract is stored on Blockchain thus they are extremely difficult for the system to be corrupt as it would require enormous computing power to override the whole network.
Autonomy, decentralization, and auto sufficiency are some of the key properties of smart contracts. Smart contact helps to solve the issue of mistrust between two or many parties and business partners. Smart contracts are used in supply chain management as they can record ownership rights as items move through the supply chain, protecting copyrighted content is another use of smart contracts also, smart contracts can allow individuals to own their digital identity containing digital assets and data.
COVID-19 impact on Smart Contract Industry
The outbreak of COVID-19 has created a positive impact on the use of intelligent automation agreements including a process, payment, and self-drawn computer program that enables efficiency. In addition, increasing government initiatives in blockchain technology are driving the growth of the global smart contract market. Smart contracts can be used to eliminate errors caused by manually filling out a large number of forms. Due to the above benefits, the demand for smart contracts is growing rapidly, ultimately supporting the growth of the global smart contract market. The increasing application of smart contracts in various industries such as banking, government, healthcare, financial services companies, and supply chains is expected to drive market growth. In addition, for data protection reasons, only certain people can access the document. Similarly, smart contracts can be used to conduct investigations privately and securely.
However, while blockchain technology is involved in smart contracts, the lack of standardization and compatibility of blockchain technology poses challenges to the development of smart contracts, and this factor hinders the growth of the global smart contract market. Expected. Also, smart contracts contain conditions that are not always understood, so it is not always possible to handle confusing conditions.
MARKET DRIVERS:
Increasing Usage in the sectors like Government, Banking, Insurance:
The Global Smart Contracts market has seen growth due to its increase in the government sector which is very important nowadays. Therefore, there is a huge demand in this sector due to the increase in the population and also an increase in the demand for good services. The smart Contracts market has shown tremendous growth due to Banking and insurance sectors which are in always high demand. The thing is that banking and insurance demand a high amount of concentration which makes it a very good option.
Growing Requirements for IoT Security:
The far-reaching utilization of IoT gadgets is seen in a few applications, for example, brilliant city projects, shrewd transportation, vehicular availability, savvy matrices, and brilliant homes. Nonetheless, with expanded availability, IoT gadgets are hugely becoming casualties of safety weaknesses, like Distributed Denial of Service (DDoS) assaults, botnet assaults, and uncertain environment interfaces. Unstable IoT gadgets give simple admittance to cybercriminals to take advantage of the security frameworks. Blockchain arrangements make a decentralized organization of IoT gadgets, which dispenses with the requirement for a focal area to deal with gadget correspondence.
Utilization of Blockchain Technology:
Blockchain technology has seen rapid growth in the last five years. The Biggest reason behind this growth is the introduction of Bitcoins. Bitcoins Demand a high level of security which can only be provided by this security technology. Blockchain offers a captivating answer for IoT security controlled by solid insurance against information altering and illicit admittance to IoT gadgets. Utilizing blockchain to store IoT information guarantees an additional layer of safety, hearty encryption, and straightforwardness with the goal that main the approved individual has empowered admittance to the IoT organization. Henceforth, undertakings that utilize IoT-empowered sensors are progressively depending on blockchain innovation to improve the security of their IoT resources.
MARKET RESTRAINTS:
Scalability, Handling Power, And Capacity Issues:
The IoT environments are exceptionally assorted. The planning of IoT gadgets in arrangement with blockchain innovation represents a few troubles. One of the significant obstacles looked by IoT is versatility, which incorporates dealing with a monstrous volume of information gathered by an enormous organization of sensors. Additionally, the handling power and time expected to perform encryption of all IoT gadgets in a blockchain-based environment are not as wanted. Capacity is one more significant issue in blockchain frameworks that store the record anxious hubs. IoT shrewd gadgets at the edge are as yet not fit for putting away enormous volumes of information or dealing with high computational power. Blockchain and IoT are both arising advances that have incredible advantages. Nonetheless, they need far and wide reception due to the previously mentioned specialized and security concerns.
Lack Of Mindfulness Connected with Blockchain-IoT Innovation:
The significant constraint to the development of the blockchain IoT market is the absence of mindfulness about disseminated record innovation, incorporation of blockchain with IoT, and its application in different areas. End-clients in different verticals miss the mark on comprehension of the advantages of this problematic innovation and how it functions with IoT. This could limit organizations from putting resources into this advancing innovation, which is as yet decentralized and needs administrative status. In its present structure, blockchain innovation is something of immense, obscure boondocks with questionable development. Financial backers, people in general, and business visionaries are yet to use their true capacity for changing business processes.
SMART CONTRACT SECURITY MARKET REPORT COVERAGE:
| | |
| --- | --- |
| REPORT METRIC | DETAILS |
| Market Size Available | 2022 - 2030 |
| Base Year | 2022 |
| Forecast Period | 2023 - 2030 |
| CAGR | 24.55% |
| Segments Covered | By Blockchain Platform, Technology, End-User and Region |
| Various Analyses Covered | Global, Regional & Country Level Analysis, Segment-Level Analysis, DROC, PESTLE Analysis, Porter's Five Forces Analysis, Competitive Landscape, Analyst Overview on Investment Opportunities |
| Regional Scope | North America, Europe, APAC, Latin America, Middle East & Africa |
| Key Companies Profiled | Coinbase, Coinify Apps, Chain Inc, Block Stream Corporation, Moniz Industries Limited, Bitpay inc., |
Smart Contract Security Market - By Blockchain Platform
Bitcoin

Ethereum

NXT

Sidechains
According to a report, Ethereum held the biggest market share of 36.28 % in 2022 having a market value of USD 52.59 Million, and it will further grow at a CAGR of 26.25 during the forecast period. Bitcoin also created a large market in this segment and reached 42.23 million in 2022.
Smart Contract Security Market - By Technology
Ethereum

Name coin

Ripple

Rootstock (RSK)

Others
Again, here Ethereum accounted for the largest share which accounted for 49.99% in 2022, with a market value of USD 62.32 million and which is further projected to grow in the upcoming time during the forecast period. RSC was the second-largest market in 2022, valued at USD 40.38 million in 2022.
Smart Contract Security - By End-User
Automobile

Government

Supply Chain Management

Others
Government Sector accounted for the largest share in the market with 33.36% in 2022. Supply Chain Management was the second largest in the market valued at USD 37.06 million in 2022. The automobile sector has also seen growth but it accounted for a very small segment in the market.
Smart Contract Security Market - By Region:
Geographically, the smart contract security market has been divided into North America, Europe, Asia Pacific, Latin America, and Middle East Africa. North America accounted for the Largest market share of 40.94% in 2022, having a market value of USD 59.35 million and which is further projected to grow at a CAGR of 25.53% during the forecast period. Europe was the second-largest market in 2022, which is valued at USD 40.28 million in 2022.
Key Market Players:
Companies like
Coinbase

Coinify Apps

Chain Inc

Block Stream Corporation

Moniz Industries Limited

Bitpay inc.
The competition among these has a section that also includes key development strategies, market share, and market ranking analysis of the above-mentioned players globally. Prairie dog Venture and Data Gumbo have formed a collaboration in June 2022 to use smart contracts to change capital projects. This collaboration will help in the further expansion of the market which is related to transactional and informational friction to transactional and capital projects.
NOTABLE HAPPENINGS IN THE SMART CONTRACTS SECURITY MARKET IN THE RECENT PAST:
Product Launch - In 2017, Prophy enabled the World's First property transaction utilizing smart contracts. The First deal accounted for a handsome amount of 60000$ apartments in Ukraine.

Collaboration- In January 2022, IBM teamed up with Thai Reinsurance Public Company Limited (Thai Re) to send off the Insurer Network, a reinsurance shrewd agreement stage utilizing IBM blockchain innovation on IBM Cloud.

Partnership- In October 2022, R3 partnered with Mphasis. The motive of this partnership was to develop a blockchain-based payment and financing solution for global supply chains. R3's blockchain platform, Corda, is used by Mphasis to extend its Payments and Trade Finance technology solutions portfolio.
Chapter 1. Smart Contract Security Market – Scope & Methodology
1.1. Market Segmentation
1.2. Assumptions
1.3. Research Methodology
1.4. Primary Sources
1.5. Secondary Sources
Chapter 2. Global Smart Contract Security Market – Executive Summary
2.1. Market Size & Forecast – (2023 – 2030) ($M/$Bn)
2.2. Key Trends & Insights
2.3. COVID-19 Impact Analysis
2.3.1. Impact during 2023 - 2030
2.3.2. Impact on Supply – Demand
Chapter 3. Global Smart Contract Security Market – Competition Scenario
3.1. Market Share Analysis
3.2. Product Benchmarking
3.3. Competitive Strategy & Development Scenario
3.4. Competitive Pricing Analysis
3.5. Supplier - Distributor Analysis
Chapter 4. Global Smart Contract Security Market Entry Scenario
4.1. Case Studies – Start-up/Thriving Companies
4.2. Regulatory Scenario - By Region
4.3 Customer Analysis
4.4. Porter's Five Force Model
4.4.1. Bargaining Power of Suppliers
4.4.2. Bargaining Powers of Customers
4.4.3. Threat of New Entrants
4.4.4. Rivalry among Existing Players
4.4.5. Threat of Substitutes
Chapter 5. Global Smart Contract Security Market - Landscape
5.1. Value Chain Analysis – Key Stakeholders Impact Analysis
5.2. Market Drivers
5.3. Market Restraints/Challenges
5.4. Market Opportunities
Chapter 6. Global Smart Contract Security Market – By Technology
6.1. Ethereum
6.2. Silica Glass
6.3. Name coin
6.4. Ripple
6.5. Rootstock (RSK)
6.6. Others
Chapter 7. Global Smart Contract Security Market – By End-User
7.1. Automobile
7.2. Government
7.3. Supply Chain Management
7.4. Others
Chapter 8. Smart Contract Security Market - By Blockchain Platform
8.1. Bitcoin
8.2. Ethereum
8.3. NXT
8.4. Sidechains
Chapter 9. Global Conductive Inks Market- By Region
9.1. North America
9.2. Europe
9.3. Asia Pacific
9.4. Others
Chapter 10. Global Smart Contract Security Market – key players
10.1 Coinbase
10.2 Coinify Apps
10.3 Chain Inc
10.4 Block Stream Corporation
10.5 Moniz Industries Limited
10.6 Bitpay inc.
Download Sample