Global Frozen Potatoes Market Size (2024 – 2030)
The Global Frozen Potatoes market was valued at USD 68,056.70 million in 2023. Over the forecast period of 2024-2030, it is projected to reach USD 93,237.94 million by 2030, growing at a CAGR of 4.6%.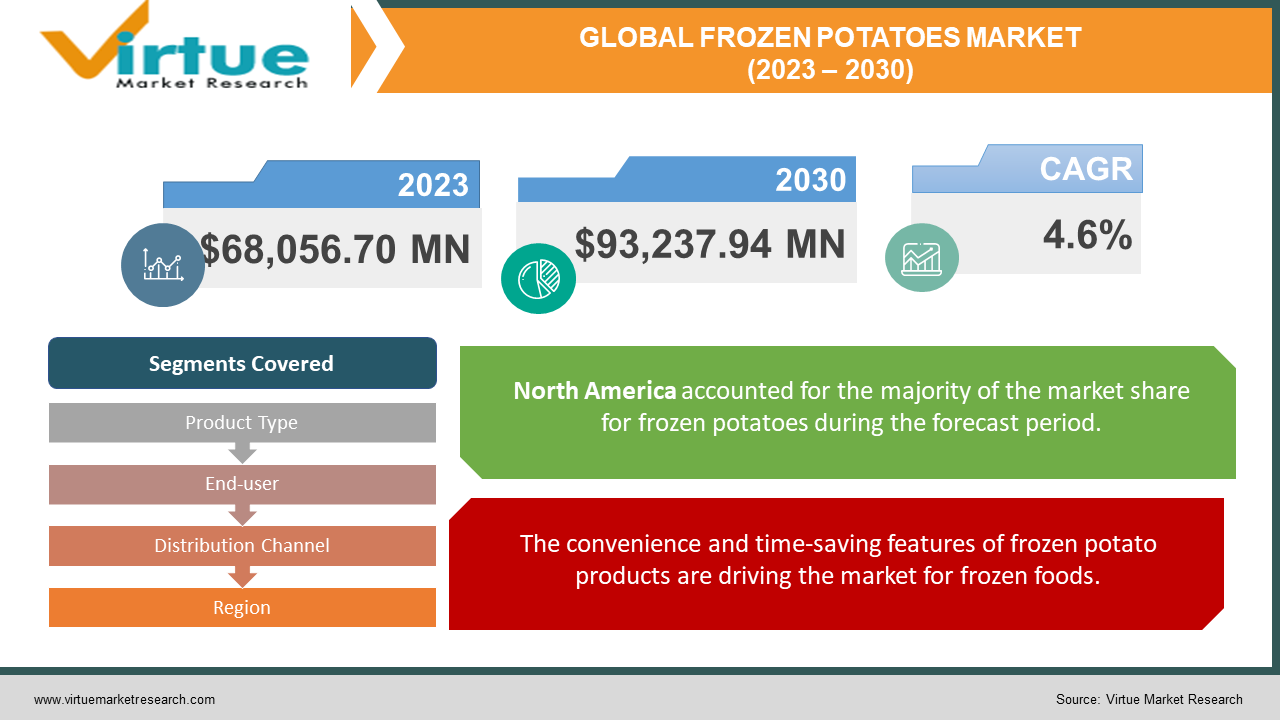 Potatoes are a staple food, potatoes come forth after wheat, rice, and maize in terms of global production. Potatoes are consumed either as fresh or processed on a commercial and residential scale. Frozen potatoes are the main types of processed potatoes and are highly convenient and flexible in terms of preparation and contain different nutrients & vitamins in preserved form with long shelf life. Frozen potatoes and their different varieties are obtained through the processing of fresh potatoes by using advanced machinery and extremely low temperatures. These are available in various forms in the market, such as French fries, hashbrowns, sweet potatoes, and battered/cooked. These products are either consumed via restaurants or through retail stores.
Key Market Insights:
The frozen potato market is experiencing rapid expansion and development. It was first introduced as an easy way to eat potatoes for a long time and has grown into a booming global industry. Fresh potatoes are washed, peeled, sliced, blanched, and frozen to preserve their flavor and nutritional value. This is the process of making frozen potatoes. Due to this process, their shelf life is increased while maintaining flavor and texture. Due to fast-paced lives and hectic schedules, the industry has seen a boom in demand, making frozen potatoes a standard food product in the house all over the world. The market offers a wide variety ranging from traditional items like french fries and hash browns to potato wedges and cheese potatoes. The market has also expanded due to the rising popularity of fast food and the rising popularity of home-cooked meals. Frozen potatoes are now a common item in the food industry due to their convenience and commercial food service. The frozen potato market is still increasing despite obstacles like the health risks like obesity, and heart attack connected with fried potato products. Manufacturers are putting more effort into baked and air-fried alternatives as better and healthier replacements.
Global Frozen Potatoes Market Drivers:
The convenience and time-saving features of frozen potato products are driving the market for frozen foods.
The frozen potato market is increasing because of the convenience and time-saving features of frozen potato products. Consumers are always looking for ways to make meals easier while maintaining quality and taste. This demand is perfectly met by frozen potato goods. using frozen potato products cuts down the time and work required to prepare meals. Frozen kinds of potatoes arrive pre-processed and ready to cook, in comparison to fresh potatoes, which require washing, peeling, and chopping. This makes potatoes a convenient and easy option for busy people and families as it allows consumers to enjoy their meals without the time-consuming preparation. Additionally, consumers can experiment with other cuisines and cooking styles due to the availability of a wide variety of frozen potato products and different flavors.
The emergence and expansion of cross-border trade are boosting the market size.
Globalization has expanded the frozen potato market' potential by promoting cross-border trade in potato goods. In different parts of the world, potatoes are grown. They have distinctive characteristics, the climate circumstance helps them to gain a distinct flavor. It is harvested, and potatoes are farmed similarly but the unique taste attracts the consumer to try potatoes from different parts of the world. As fresh potatoes can't reach the consumer the best option is frozen potatoes. Additionally, cross-border partnerships and collaborations in the sector, fostering information sharing and technical development are the factors responsible for the growth of the frozen potatoes market.

Global Frozen Potatoes Market Restraints and Challenges:
People are shifting toward Plant-based cuisine. According to the Vegan Society, in the last few years, at least 2% of the global population has been identified as vegan. This is due to the increasing healthier lifestyle and public awareness. As a result, people are leaning toward plant-based foods and snacks, creating enormous prospects for frozen potato manufacturers.
Another main issue is how fried frozen potato products, like french fries, and wedges are prepared. These fried foods are linked to high fat content from deep frying, which raises concerns regarding obesity, weight gain, and heart disease. The nutritional value of some frozen potato products has raised questions due to the use of preservatives, chemicals, and sodium in excess for a long shelf life. Consumers are becoming more health conscious after the pandemic, and this has increased demand for better substitutes. Manufacturers are creating baked, air-fried, or lower-fat variations of frozen potato items to tackle this situation.
Global Frozen Potatoes Market Opportunities:
Innovation in flavors can increase the demand for frozen potatoes all around the world. The use of simple classic tastes or strong exotic seasonings to fusion-inspired flavors is influenced by many cuisines. For instance, dishes like curry-flavored hash browns, truffle-infused potato wedges, and spicy Sriracha fries may appeal to foodies looking for new culinary experiences. Frozen potato products are more attractive and appealing to customers due to a wide variety of shapes such as spiralized potatoes or loaded potato tots.
GLOBAL FROZEN POTATOES MARKET REPORT COVERAGE:
| | |
| --- | --- |
| REPORT METRIC | DETAILS |
| Market Size Available | 2022 - 2030 |
| Base Year | 2022 |
| Forecast Period | 2023 - 2030 |
| CAGR | 4.6% |
| Segments Covered | By Product Type, End-user, Distribution Channel, and Region |
| Various Analyses Covered | Global, Regional & Country Level Analysis, Segment-Level Analysis, DROC, PESTLE Analysis, Porter's Five Forces Analysis, Competitive Landscape, Analyst Overview on Investment Opportunities |
| Regional Scope | North America, Europe, APAC, Latin America, Middle East & Africa |
| Key Companies Profiled | The Kraft Heinz Company, The Hain Celestial Company, Agristo, Farm Frites, Bart's Potato Company, J.R. Simplot Company, Agrarfrost GmbH & Co. KG, Greenyard, Himalaya Food International Ltd., J.R. Simplot Company |
Global Frozen Potatoes Market Segmentation: By Product Type:
Potato Fried

Potato Wedges

Stuffed Potatoes

Potato Slices

Potato Chunks

Potato Dices

Baked Potato

Others
On the basis of product type, the French fries segment is the largest segment with a 40% share of the global frozen potatoes market in 2023. French fries are widely consumed, increasing the consumption of Western-style cuisine. Due to the rapid expansion of Quick service restaurants (QSRs) such as Subway, Burger King, McDonald's, Wendy's, and many more. The French fries market is also the fastest growing segment as it is expected to develop new products which will lead to growth of the market.
Global Frozen Potatoes Market Segmentation: By End-user:
Commercial Use

Residential Use
On the basis of end users, the commercial segment held the largest market share. The high market potential for investment, rise in demand, and expansion of QSRs business in different countries is the reason for the commercial segment growth. In the residential segment, frozen potato products are purchased and prepared by individuals or families for consumption at home. In Residential use, consumers buy frozen potato items from grocery stores or supermarkets or online and cook them in their kitchens. This segment appreciates the quick and easy meal options that frozen potato products offer. It includes products like frozen french fries, hash browns, Patties, and various others that are enjoyed as snacks for domestic purposes.
Global Frozen Potatoes Market Segmentation: By Distribution Channel:
In the distribution channel, B2B is dominating the segment with a 73.6% share in the market in 2023 with a CAGR of 3.9% over the forecast period, 2024-2030. Increasing demand from fast food franchises and quick service restaurants is one of the key factors behind the dominance of B2B distribution channels. The B2C is also expected to grow at a significant CAGR of 4.9% over the forecasted period. The online segment is predicted to grow during the forecast period. The online distribution channel is rapidly growing during the forecast period due to the increasing digitalization and changing consumer behavior, leading consumers to online shopping. The COVID-19 pandemic has shifted the market growth towards online grocery shopping.
Global Frozen Potatoes Market Segmentation - By Region:
North America

Europe

Asia Pacific

Middle East

Latin America
In the region, North America is the largest region in the global frozen potatoes market. The region's significant share is due to the widespread popularity of frozen potato products, mainly french fries and potato wedges. Additionally, the presence of well-established fast-food chains and quick-service restaurants that serve these products has increased the demand. Frozen food can be used as a residential, which means consumers can cook or bake potatoes easily at home. Asia-Pacific is the fastest growing region in the frozen potato market due to the increasing demand for freshly prepared and preferences for convenience foods.
COVID-19 Pandemic: Impact Analysis
Due to lockdowns and the shutdown of manufacturing plants, there was a huge decline in the rate of demand and supply. Further, supply chain disruptions created challenges for the transportation and distribution of food products across the world. Shortage of raw materials and labor created hindrances for the market. Lockdown, which imposed travel restrictions, reduced the number of visits to the regular markets. People started to focus on their lifestyle. Fried potato food items can increase the risk of diseases like obesity, heart attack, etc. This factor was responsible for the negative impact on the frozen potato market.
Latest Trends/ Developments:
In 2023, Agristo purchased the shuttered Tereos sugar refinery in France to build a new facility for processing frozen potatoes.
In 2022, Amul launched frozen potato products in India. The products are burger patties, hash browns, potato wedges, and French fries with 100% natural no artificial color or flavor added.
In 2022, in Belarus, the Tolochin Cannery opened a line to manufacture frozen semi-finished French fries. It is the country's first manufacturer of such items.
Key Players:
These are the top 10 players in the Global Frozen Potatoes Market:-
The Kraft Heinz Company

The Hain Celestial Company

Agristo

Farm Frites

Bart's Potato Company

J.R. Simplot Company

Agrarfrost GmbH & Co. KG

Greenyard

Himalaya Food International Ltd.

J.R. Simplot Company
Chapter 1. Global Frozen Potatoes Market – Scope & Methodology
1.1 Market Segmentation
1.2 Scope, Assumptions & Limitations
1.3 Research Methodology
1.4 Primary Sources
1.5 Secondary Sources
Chapter 2. Global Frozen Potatoes Market – Executive Summary
2.1 Market Size & Forecast – (2024 – 2030) ($M/$Bn)
2.2 Key Trends & Insights
2.2.1 Demand Side
2.2.2 Supply Side
2.3 Attractive Investment Propositions
2.4 COVID-19 Impact Analysis
Chapter 3. Global Frozen Potatoes Market – Competition Scenario
3.1 Market Share Analysis & Company Benchmarking
3.2 Competitive Strategy & Development Scenario
3.3 Competitive Pricing Analysis
3.4 Supplier-Distributor Analysis
Chapter 4. Global Frozen Potatoes Market - Entry Scenario
4.1 Regulatory Scenario
4.2 Case Studies – Key Start-ups
4.3 Customer Analysis
4.4 PESTLE Analysis
4.5 Porters Five Force Model
4.5.1 Bargaining Power of Suppliers
4.5.2 Bargaining Powers of Customers
4.5.3 Threat of New Entrants
4.5.4 Rivalry among Existing Players
4.5.5 Threat of Substitutes
Chapter 5. Global Frozen Potatoes Market – Landscape
5.1 Value Chain Analysis – Key Stakeholders Impact Analysis
5.2 Market Drivers
5.3 Market Restraints/Challenges
5.4 Market Opportunities
Chapter 6. Global Frozen Potatoes Market – By Product Type
6.1 Introduction/Key Findings
6.2 Potato Fried
6.3 Potato Wedges
6.4 Stuffed Potatoes
6.5 Potato Slices
6.6 Potato Chunks
6.7 Potato Dices
6.8 Baked Potato
6.9 Others
6.10 Y-O-Y Growth trend Analysis By Product Type
6.11 Absolute $ Opportunity Analysis By Product Type, 2024-2030
Chapter 7. Global Frozen Potatoes Market – By End-user
7.1 Introduction/Key Findings
7.2 Commercial Use
7.3 Residential Use
7.4 Y-O-Y Growth trend Analysis By End-user
7.5 Absolute $ Opportunity Analysis By End-user, 2024-2030
Chapter 8. Global Frozen Potatoes Market – By Distribution Channel
8.1 Introduction/Key Findings
8.2 B2B
8.3 B2C
8.4 Hypermarkets/Supermarkets
8.5 Convenience Stores
8.6 Specialty Stores
8.7 Retail Stores
8.8 Online Retail
8.9 Y-O-Y Growth trend Analysis By Distribution Channel
8.10 Absolute $ Opportunity Analysis By Distribution Channel, 2024-2030
Chapter 9. Global Frozen Potatoes Market , By Geography – Market Size, Forecast, Trends & Insights
9.1 North America
9.1.1 By Country
9.1.1.1 U.S.A.
9.1.1.2 Canada
9.1.1.3 Mexico
9.1.2 By Product Type
9.1.3 By End-user
9.1.4 By By Distribution Channel
9.1.5 Countries & Segments - Market Attractiveness Analysis
9.2 Europe
9.2.1 By Country
9.2.1.1 U.K
9.2.1.2 Germany
9.2.1.3 France
9.2.1.4 Italy
9.2.1.5 Spain
9.2.1.6 Rest of Europe
9.2.2 By Product Type
9.2.3 By End-user
9.2.4 By Distribution Channel
9.2.5 Countries & Segments - Market Attractiveness Analysis
9.3 Asia Pacific
9.3.1 By Country
9.3.1.1 China
9.3.1.2 Japan
9.3.1.3 South Korea
9.3.1.4 India
9.3.1.5 Australia & New Zealand
9.3.1.6 Rest of Asia-Pacific
9.3.2 By Product Type
9.3.3 By End-user
9.3.4 By Distribution Channel
9.3.5 Countries & Segments - Market Attractiveness Analysis
9.4 South America
9.4.1 By Country
9.4.1.1 Brazil
9.4.1.2 Argentina
9.4.1.3 Colombia
9.4.1.4 Chile
9.4.1.5 Rest of South America
9.4.2 By Product Type
9.4.3 By End-user
9.4.4 By Distribution Channel
9.4.5 Countries & Segments - Market Attractiveness Analysis
9.5 Middle East & Africa
9.5.1 By Country
9.5.1.1 United Arab Emirates (UAE)
9.5.1.2 Saudi Arabia
9.5.1.3 Qatar
9.5.1.4 Israel
9.5.1.5 South Africa
9.5.1.6 Nigeria
9.5.1.7 Kenya
9.5.1.8 Egypt
9.5.1.9 Rest of MEA
9.5.2 By Product Type
9.5.3 By End-user
9.5.4 By Distribution Channel
9.5.5 Countries & Segments - Market Attractiveness Analysis
Chapter 10. Global Frozen Potatoes Market – Company Profiles – (Overview, Product Type Portfolio, Financials, Strategies & Developments)
10.1 The Kraft Heinz Company
10.2 The Hain Celestial Company
10.3 Agristo
10.4 Farm Frites
10.5 Bart's Potato Company
10.6 J.R. Simplot Company
10.7 Agrarfrost GmbH & Co. KG
10.8 Greenyard
10.9 Himalaya Food International Ltd.
10.10 J.R. Simplot Company